The Local Painting Contractor in Houston, TX You Can Depend On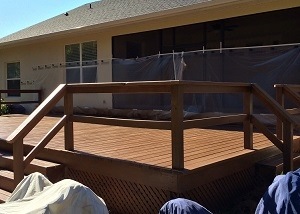 Since 1981, John McDonald Painting has been the premier painting contractor in Houston, TX for a variety of painting services. We are dedicated to ensuring the satisfaction of each of our clients. There is no reason to settle for inferior workmanship, when it comes to your home or your business.
Too many people think that they have to choose between quality craftsmanship, customer service excellence or reasonable pricing when selecting a painter. Yet, by partnering with our team of experts, you can get all of the above. We take great pride in our ability to get you the service you need for an affordable price.
We are a family owned and operated company, with a third generation painting contractor in Houston at the helm. It means that we offer the individual personalized care you want for the skilled workmanship that you need. Give us a call today in order to find out more about what we have to offer you.
Superior Painting Contractor in Houston
As the local leading painting service provider in the Houston area, we make it a point to try to offer as many services as possible. This ensures that all of our customers' needs are met. Some examples of the work we provide are:
Interior Painting – This sets the tone for the atmosphere and enhances the overall look and appearance. However, too many homeowners try to DIY the paint job and end up disappointed with the results.
Brick Paver Sealing – Adding brick pavers to your property is one thing. Protecting them and ensuring the longevity is something best accomplished via professional grade sealing.
Fence Painting – To ensure the condition and appearance of your fencing system, you need high quality painting work. Let our pros handle the job for you.
Metal Roof Painting – A metal roof can last for 50 years or more, with proper care. One of the keys to long term success with this type of roofing system is getting the painting done that you need.
The bottom line is that we want to be able to provide our clients with the superior results that they deserve, without sacrifice or compromise. Do not pick a painter based solely on deeply discounted pricing. You end up getting what you pay for and we offer reasonable prices paired with exceptional results.
Houston Power Washing & Painting Service Provider
Power washing and painting go hand in hand, although you can have just a power washing to clean up your exterior. Whether you need just one or both, John McDonald Painting can take care of it for you. We look forward to working with you and ensuring that you get the results that you want, need and deserve.
---
Recent Houston Projects
Commercial Roof Coating in Houston, TX

Commercial roof coating, this is a project we completed for a small paint manufacturer located here in Houston Texas. We first power washed the roofs to remove dirt mold and mildew to prepare the surfaces for painting we then allow them to thoroughly dry. We then […]

711 Convenience Stores in Greater Houston, TX

Here are some photos of a project we just completed it was the re-branding of the stripes convenience stores to 7-Eleven convenience stores. We painted a total of 11 stores in and around the greater Houston Texas area. The paint we used was Sherwin-Williams pro industrial DTM […]
If you are looking for a reliable painting contractor in Houston, TX then please call John McDonald Painting at 713-927-6682 or complete our online request form.