Protective & Appealing Metal Roof Painting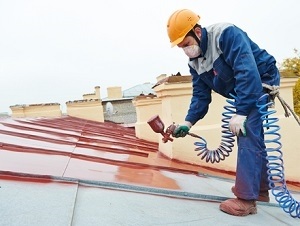 One of the reasons that metal roofing is so popular in the first place in the Houston area, is because of its longevity. On average, a well kept metal roof can last approximately 50 years. The good news is that, if structurally sound, metal roof painting can help prolong the lifespan even more. Of course, in order to get the best possible results, it takes a team of true industry experts to get the job done, which is where our experts come into the picture.
For well over 30 years now, John McDonald Painting has been the painter that local home and business owners depend on for quality painting services. We are a family owned and operated company, lead by a 3rd generation painting contractor. The bottom line is that we know painting, as well as we know customer care.
We offer meticulous craftsmanship at reasonable prices, so you never have to choose between quality work or affordable work. We genuinely care about helping our clients get the results that they want, which means nothing but the finest in quality. Let us provide you with superior results so that you can gain a better understanding of what makes us the local leading service provider for painting metal roofs.
Superior Metal Roof Painting Results from Local Pros
If you are not yet familiar with the process and benefits of professional metal roof painting services, here are some things that you should be aware of.
If the paint on your metal roof is just chalky or faded, chances are it will be a good candidate for repainting, as opposed to replacement. Obviously, this is a much more cost-effective alternative to replacement. The bottom line is that metal can last forever, it is the paint that gives away.
Of course, it is vital that only paint specifically designed for metal roofing be used for your rooftop. This is why it is important that you hire a professional to handle the job, and one that is established and reputable. Otherwise, it can appear that the job has been done when, in all actuality, the paint used will end up peeling and cracking, once exposed to the elements.
When you make the wise choice to work with us, you will realize immediately that you are in good hands.
Skilled Metal Roof Painting Techniques For Your Home or Business
Let our experts here at John McDonald Painting provide you with the information you need and the high end quality that you deserve, for your metal roof painting. We work with countless home and business owners each year, which is how we have earned the customer satisfaction rating we have. Let us help you extend the lifespan of your metal roof with this essential service.
---
Recent Metal Roof Painting Related Projects
Commercial Roof Coating in Houston, TX

Commercial roof coating, this is a project we completed for a small paint manufacturer located here in Houston Texas. We first power washed the roofs to remove dirt mold and mildew to prepare the surfaces for painting we then allow them to thoroughly dry. We then […]
If you would like an estimate for metal roof painting, please call the painters at John McDonald Painting at 713-927-6682 or complete our online request form.