Wood Fence Painting Experts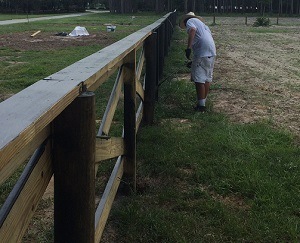 It is crucial not to overlook the importance of getting quality fence painting in Houston. At John McDonald Painting, we have been in the business since 1981 and seen plenty of examples of fences that took a severe weathering, all because they lacked the essential protection via paint sealing. If you want to maintain the integrity of your fence, and help ensure longevity, you need to have it professionally painted.
Wood fences look stunning and can serve a useful function, but only when prepped to withstand the elements and the tests of time. This is not the type of work that you should attempt to take care of on your own. Nor should you hire someone who may be lacking the credentials required to provide service excellence.
Hire a painter based just on low cost and you are likely to end up disappointed with the outcome. That does not mean that you have to choose between superior workmanship or affordable pricing. By making the wise decision to partner with our pros, you get the best of both worlds. Call us today to learn more about our painting services.
Local Pros Offer Superior Results for Fence Painting in Houston
The sooner you get your fence painted or repainted, the better off you are. Here are some other things that you should be aware of when it comes to painting fences in the Houston area:
For a newer fence, the sooner you can get a layer of protective seal on the wood, the better. This will help to prevent problems, such as rot, from developing and causing damage to your fence. The upfront cost of quality paint work is far better than the cost of repairs or, even worse, post replacement.
Older fences, even if originally painted, need TLC too. Make it a point to get your fencing repainted on a regular basis. This will help to prevent the aging and deteriorating process from happening too soon.
The quality service that we offer will improve the look, as well as preserve the condition. This will result in actually creating a fence worthy of increasing the property value of your home or commercial land. Good fences may make good neighbors, but painted fences make for a good investment.
Skilled Fence Painting Experts For Your Home or Business
When it comes to your fencing, quality should always matter. And when it comes to quality, John McDonald Painting will always deliver.
We take this line of work seriously and that shows in the results that we are able to get. Our goal is to help you preserve and beautify your fence and property, for years to come. Get in touch with us today to make arrangements.