The Local Experts for Metal Building Refinishing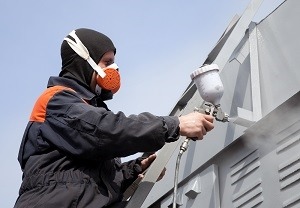 Metal is one of the best materials that you can work with in Houston for a variety of applications, including buildings. Metal buildings can last forever and can withstand wear and tear, as well as the tests of time. However, it also requires upkeep in order to get the performance and longevity you are hoping for.
If you are looking for an expert to handle your metal building refinishing needs in the Houston area, the only name that you need to know is John McDonald Painting. For over three decades now, we have been providing the best in quality service to local home and business owners. We take this line of work seriously and it shows in the results that we are able to provide for our clients.
We are a family owned and operated company, so you know that you will get the careful attention to customer service details that you want. Plus, we are headed up by a third generation painter so you also know that the quality will be superior. Get in touch with us today so that we can tell you more about this, and all the painting services that we can offer you.
Superior Metal Building Refinishing Results From Seasoned Pros
What's important to know is what makes a metal building such a good choice. Some benefits and advantages you can expect include, but are not limited to:
This type of building material means that you will not have as many repairs to contend with. This results in fewer repairs yet a longer lifespan than other types of building materials.
Because metal buildings have come such a long way in recent years, it means increased visual aesthetics. Your metal building no longer has to look simply utilitarian, unless that is the look that you want. Just like metal roofing, the building can look as ornate as you would like.
With more and more people becoming concerned for environmental responsibility, it is good to know metal is a green building material. Once your roof or building has completed its life cycle, it is completely recyclable.
Opting for metal is also a great way to avoid concern for pest infestation or fire. Your metal building will be resistant to both.
Residential & Commercial Metal Building Refinishing Techniques
John McDonald Painting is the only name that you need to know, when it comes to metal building work. We can provide you with the level of quality service that you need, and long lasting quality results for years to come. We look forward to working with you and ensuring that you are beyond satisfied with your metal building refinishing.
---
Recent Metal Building Refinishing Projects
Commercial Roof Coating in Houston, TX

Commercial roof coating, this is a project we completed for a small paint manufacturer located here in Houston Texas. We first power washed the roofs to remove dirt mold and mildew to prepare the surfaces for painting we then allow them to thoroughly dry. We then […]
If you would like an estimate for metal building refinishing, please call the painters at John McDonald Painting at 713-927-6682 or complete our online request form.