Quality Interior Painting with a Creative Edge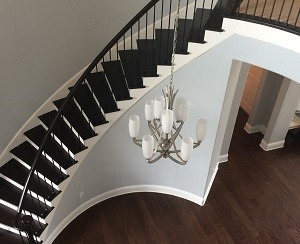 Do you have an interior painting project in mind? Changing the color of your home's walls can be an invigorating and worthwhile investment. It's cheaper than full-blown remodeling yet can have the same impact when done correctly. There's so much you can do with a fresh coat of paint - especially with the right painter on your side.
When you make the decision to hire a professional painting contractor in Houston, you want to be certain you are getting the best there is. This doesn't have to mean spending top dollar to do so. Yet it also shouldn't mean making your choice based on the lowest possible bid, or you are not likely to end up being happy with the results of your interior painting project.
Savvy home and business owners in the area have come to realize that John McDonald Painting is the name that you can count on, for top quality results and a full range of painting services in the Houston area. We are a family owned and operated company, lead by a third generation painting contractor. The bottom line is that we are dedicated to providing our clients with the best in workmanship possible, and have been since first starting the business back in 1981.
The bottom line is that we genuinely care about the work we do for each of our clients, and this shows in the customer satisfaction rating that we have. Let us work with you, in order to help select the right look for you and then help bring that to fruition.
Superior Interior Painting Results from Local Painters
One of the biggest problems that needs to be addressed, is avoiding making poor paint color choices. While we can certainly deliver exceptional painting craftsmanship results, we can't help you love the color, once it's on your wall.
We do offer color consultation services, in order to try to avoid this, but here are a few pointers to keep in mind when planning your interior painting project:
Don't forget how natural light will make your new color look, just as you wouldn't want to look at the possible option in just natural light. Make it a point to consider all possible lighting situations, before deciding on a color.
A paint chip is a useful starting tool, it is not enough to make any major decisions with. It is important to paint actual swatches on the wall, or a board you can put in the room, and live with the color(s) for a few days. This enables you to get a general sense for how you will feel about the hue, with time and in different lighting situations. Avoid colors trends and you will already be setting yourself up for success.
Skilled Interior Painting Techniques For Your Home or Business
The final results are what it is all about, and you should be able to love yours, for years to come. John McDonald Painting is the only name that you need to know, when it comes to topnotch customer service, workmanship and even reasonable pricing. Don't settle for less than the best, when it comes to your interior painting service needs.
---
Recent Interior Painting Related Projects
Condo Repaint in Champions, TX

These are some very nice folks we've actually painted three houses for they are now retired and this is their new one bedroom condominium in Champions Park by looking at the photos you can see they knew what they wanted when we showed up they had […]

New Construction Interior Repaint In Katy, Texas

We were referred to these customers from previous clients. This is a brand new home that came with the Stark Builders white on the walls. Our initial consultation was performed on site to try and choose colors, quality, and quantity of paints to be used. After […]
If you would like an estimate for a residential or commercial interior painting project, please call the painters at John McDonald Painting at 713-927-6682 or complete our online request form.