The Best House Painters in The Woodlands, TX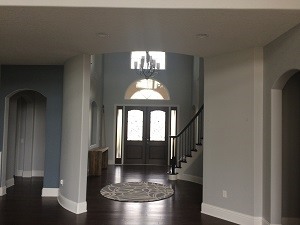 Locating a house painter in the Woodlands, TX to work with means finding the most reputable and qualified contractor that there is. This is why so many locals call on John McDonald Painting to get the job done. For over three decades now, we have been the local leading service provider for both residential and commercial clients. We take great pride in the work that we do and that shows in the results that we are able to get with our painting services in the Woodlands.
We are a family owned and operated business and we work hard to make sure that we don't just meet the expectations of our customers, we strive to exceed them. This is why we make it a point to offer feedback for a color consultation, so that you do not make a choice that you will end up regretting. The bottom line is that we provide meticulous craftsmanship, at an affordable price.
Too many home and business owners think that they have to choose between quality workmanship or reasonable pricing when selecting a painting contractor in the Woodlands. Yet, the good news is that, by partnering with us, you can get the best of both worlds. We look forward to working with you and providing you with the level of quality work that you deserve and making your hunt for a local painter an easy one.
Superior Painting Contractor in The Woodlands
In order to be the number one painting contractor in the area, it means offering the services that local clients need. Some of the work that we can do includes, but is not limited to:
Exterior Painting – The outside of your home or business is what makes the first impression and adds to the curb appeal. We are able to ensure that you pick the right color and get topnotch quality results. Let us work with you so that you can get the final look you always wanted.
Power Washing – One of the best ways to make your home looks its best is with a professional power washing. This is also an important preventative maintenance approach to take, in order to avoid having issues like mold and rot develop.
Fence Painting – Beautify and protect your fence, with our quality fence painting service. The work we do will ensure peak performance and maximum longevity.
The Woodlands Power Washing & Painting Service Provider
Let the team here at John McDonald Painting take care of your power washing and painting service needs. We pride ourselves on the superior workmanship that we deliver. Don't take chances when it comes to the level of quality work you get for your home or business. Let us show you how we earned the impeccable reputation that we have.
If you are looking for a reliable painting contractor in The Woodlands, TX then please call John McDonald Painting at 713-927-6682 or complete our online request form.