Agricultural, Ranch & Farm Painting Services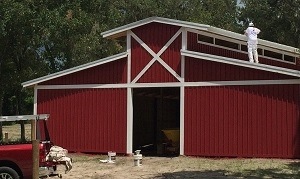 John McDonald Painting is the only name that you need to know, in order to address your need for ranch, agricultural or farm painting services in Houston and the surrounding areas. The reason it is vital to get superior service work done for these types of structures is that the painting must withstand the elements. Many of these structures are subjected to harsher wear and tear, and you want to feel confident they can hold up against the elements.
Of course, it is also about making them look good. Just because a building is functional does not mean it has to look utilitarian. In fact, in many cases, the point is to try to make it look quite the opposite. In order to make part of your property look cohesive with the rest, it is about making sure it looks like it blends in with the layout, design and plan.
We have been in business, taking care of painting services like this, since 1981. We are a family owned and operated business, with a third generation painting contractor at the helm. It is safe to say that we take this line of work seriously and look forward to showing you how we have earned the impeccable reputation that we have as a local painter.
Superior Results Painting Farms, Ranches, Barns & Agricultural Structures
Whether you need a barn painted or an entire ranch, if you are in search of a professional to handle your agricultural painting service needs, you should know a few things:
Of course fresh paint will help improve the visual aesthetics. This helps to increase the property value of your land. While a functional building already adds to the value, a functional structure that is not an eyesore adds even more value.
A quality paint job is also about protecting the exterior of your farm, ranch or other building. This is the first line of defense against the elements, and we are able to choose the highest quality of protection for it. This is like sealing it in a protective layer that will help promote peak performance and maximum longevity.
Did you know that you can even reduce energy costs, with the right coat of paint. White paint used on the top of your structure can provide you with a lighter colored surface in order to reflect light and cut down on your energy expenses.
Skilled Houston Farm Painting Experts for Your Home or Business
Let John McDonald Painting provide you with the service you need and the quality you want. Don't settle for anything less than service excellence, when it comes to your Farm, Ranch & Agricultural Painting. Get in touch with us today to get started.
If you would like an estimate for an agricultural, ranch or farm painting project, please call the painters at John McDonald Painting at 713-927-6682 or complete our online request form.