House Painters in Tomball, TX Offering Top Quality Results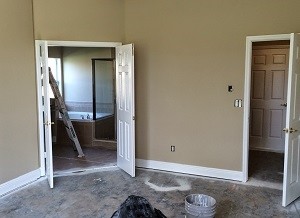 When you need a house painter in Tomball, TX, only the best will do. This is why so many locals make the smart choice to call on John McDonald Painting. We take this line of work seriously which is how our name has become synonymous with impeccable quality.
Since 1981, our family owned and operated company has been delivering the best in quality service work to our clients. We take great pride in having had the opportunity to already service local home and business owners for well over 30 years. Part of what sets our team of Tomball house painters apart from the rest of the competition out there is that the company was founded by a third generation painting contractor.
This means we have hands-on, in-depth knowledge of what it takes to get the job done right, and what it takes to satisfy the needs of our customers. It is an honor to have the opportunity to offer our services, including color consultation service. Get in touch with us today, in order to find out more about what we have to offer you. We'd love to be your preferred painter.
Superior Painting Contractor in Tomball
What we offer is about a lot more than just interior and exterior painting in Tomball, TX, although we certainly offer that as well. We offer some other important services such as:
Metal Roof Painting – People who opt for metal roofing can expect peak performance and optimal longevity. However, what helps ensure 50 or more years of a quality lifespan is getting quality painting. We will work with you in order to get this task taken care of.
Brick Paver Sealing – Brick pavers can be used for a number of important services, such as patios. However, the best way to ensure longevity and appearance is to get professional sealing completed. This will make them easier to clean, as well as prevent weeds from developing.
Farm Painting – Just because you have a utilitarian structure on your property, doesn't mean that it has to look that way. Let us help you improve the look while sealing the surface for better protection. This will directly help to improve the property value, as well.
Tomball Power Washing & Painting Service Provider
Can't get professional painting done without a professional power wash to start. This will help to remove dirt and buildup from the surface and ensure that the paint has a clean surface to adhere to.
John McDonald Painting will make sure that you get the service that you need and the quality of results that you deserve. Contact us now, in order to get started.
If you are looking for a reliable painting contractor in Tomball, TX then please call John McDonald Painting at 713-927-6682 or complete our online request form.