The Best Painting Contractor in Katy, TX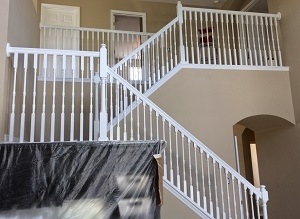 John McDonald Painting is the only name that you need to know in order to get the finest painting service work possible. For well over 30 years now, we have been earning the impeccable reputation that we have as a painting contractor in Katy, TX by addressing the service needs of local residential and commercial clients. We take this line of work seriously and that shows in the results that we are able to get on every job we tackle.
As a family owned and operated painting services company, we know the importance of keeping our customers satisfied. The clients we work with are our friends, neighbors and fellow community members. It is in our best interest to service them and ensure that our work meets and exceeds their expectations.
We take the time required to find out more about what you need and make sure that is what we are able to deliver. This includes offering vital feedback so you make choices that you can live with, confidently, for years to come. Get in touch with us now to find out more about what we can do for you. We look forward to being your go-to painter for all types of services, including interior and exterior painting, power washing, cabinet refinishing and more.
Superior Painting Contractor in Katy
We offer a wide variety of essential services in order to help address the need of our clients. Part of being the number one choice for Katy house painter work, is offering an assortment of necessary tasks. These include options like:
Metal Building Refinishing – Metal will last forever, it is the paint protecting it that becomes rundown. Let us help prolong the lifespan by providing you with quality workmanship. We take great pride in the work that we do, which shows in the results that we are able to get.
Exterior Painting – When it comes to exterior painting, it is all about curb appeal and first impressions. It doesn't matter if we are talking about your home or business, you want to be able to feel good about the condition and appearance. Let us show you what a difference true quality makes.
Kitchen Cabinet Refinishing – Don't waste 40% of your kitchen remodeling budget with new cabinets when you can save money with refinishing. We can update and upgrade the appearance of your cabinets, while saving you money.
Katy Power Washing & Painting Service Provider
John McDonald Painting is the only name that you need to know, when it comes to power washing, as well as quality painting. Our goal is to help you improve the look of your exterior, while also increasing the property value.
Did you know power washing alone can increase the value of your home by as much as $15,000? When paired with quality painting too, you can expect even better numbers.
---
Recent Katy Projects
New Construction Interior Repaint In Katy, Texas

We were referred to these customers from previous clients. This is a brand new home that came with the Stark Builders white on the walls. Our initial consultation was performed on site to try and choose colors, quality, and quantity of paints to be used. After […]
If you are looking for a reliable painting contractor in Katy, TX then please call John McDonald Painting at 713-927-6682 or complete our online request form.