A Champions Park House Painter You Can Rely On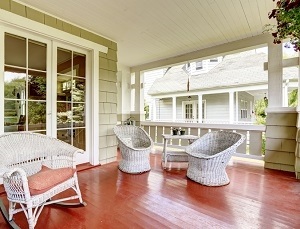 A common question we get asked here at John McDonald Painting, is what qualifies us as the number one Champions Park house painter in the area? For one thing, you cannot last since 1981 without doing something right. So, for over three decades now, we have been providing exceptional quality painting services for both residential and commercial clients.
We are a family owned and operated business which means that you get the individual care you deserve as well as the skilled expert workmanship that you need when you choose us as your local painter. Our company is headed up by a third generation painting contractor, and we are dedicated to offering the best in meticulous craftsmanship. Plus, by making the decision to work with us, you don't have to choose between quality workmanship, customer service excellence or affordable pricing when hiring a painting contractor in Champions Park, TX.
When you work with us you get all of the above. Of course, these are just a few of the reasons that we have earned the impeccable reputation that we have. Mostly, it is about being committed to our clients and ensuring that we go above and beyond, when it comes to delivering quality results.
Superior Painting Contractor in Champions Park
Another trait that qualifies us as the best painting contractor in Champions Park is that we offer a wide variety of essential services. Some examples of the work we area able to offer includes:
Painting the inside of your home or business is actually a pretty big deal, and not something you should attempt to tackle on your own. This is what helps to create the tone and atmosphere, as well as beautifies your interior space. Let us help you make essential choices that will improve your visual design aesthetics.
Having a metal building means having a structure meant to withstand the tests of time. However, it can also only hold up against the elements with a quality coat of paint. Otherwise, it will not weather quite as well.
Kitchen cabinet painting is an essential way to help drastically stretch your remodeling budget. If you paint or refinish instead of replace, you are bound to end up caving a great deal of money. We look forward to helping you with this.
Champions Park Power Washing & Painting Service Provider
At John McDonald Painting, we realize that you certainly cannot address the need for exterior painting, without first taking care of the power washing. However, you can opt for just power washing if all you need is to spruce up the outside of your home or business. You are going to love the final look that our team can provide you with.
---
Recent Champions Park Projects
Condo Repaint in Champions, TX

These are some very nice folks we've actually painted three houses for they are now retired and this is their new one bedroom condominium in Champions Park by looking at the photos you can see they knew what they wanted when we showed up they had […]
If you are looking for a reliable painting contractor in Champions Park, TX then please call John McDonald Painting at 713-927-6682 or complete our online request form.