Residential & Commercial Exterior Painting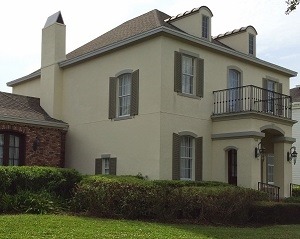 A lot of work goes into exterior painting for homes and commercial properties, and a critical step in the process is planning and color selection. Few people realize the level of importance involved with selecting the right exterior paint color, until they see the new color in place. The outside of your home or business is what makes the first impression, make it a point to choose a color that will make a positive one. At John McDonald Painting, we are experts in the world of color consultation, as well as actual craftsmanship.
This is because we have been working together with local clients since 1981 and know what it takes to provide our clients with total satisfaction. This is not something that you can do if the customer is not happy with the final look, even if that means the color and not the actual labor. When you hire us for your painting work, it is about partnering together to get the job done, not simply executing the task at hand.
Don't overlook the importance of getting professional exterior painting taken care of for your commercial space, as well. This can be the difference between luring in new clients and losing them to your competition. Let this family owned and operated business provide you with the level of quality service that will help make a difference for your home or business. Give us a call today, and let us prove to you why we are the top local painter in the Houston area.
Local Pros Offer Superior Results for Exterior Painting in Houston
Every few years, you owe it to yourself, and your home, to spruce up your exterior paint. Even if you opt for the same color, this will help freshen up the look. Here are a few examples of mistakes to avoid, when it comes to your exterior color:
It is important to have a color scheme for the exterior of your home, just the same way that it is for the interior. Not having a plan and trying color samples ahead of time is a surefire way to end up not liking the final results.
For the sake of cohesiveness, it is important to take neighboring homes into consideration. Of course, don't choose based solely on this since any of your neighbors may suddenly decide to buck the system and choose a wild color. However, if you are the one making that crazy color choice, keep in mind it will make the whole area look a bit off.
If you need exterior commercial or house painting services, give our team of professional painting contractors a call today. We'd be happy to guide you through the process and offer our expert advice on color selection based on your preferences and property needs.
Skilled Exterior Painting Techniques For Your Home or Business
John McDonald Painting is the top choice for exterior painting work, for both residential and commercial clients. We look forward to having the opportunity to partner with you and provide you with the level of individual care and service that you need. Quality should always count, when it comes to your home or business, so call us today to get the very best.
---
Recent Exterior Painting Related Projects
Airplane Hangar Repainting in Brookshire, TX

This is a small project we just completed in Brookshire Texas. We started with power washing the exterior to remove all dirt mold and mildew to prepare for painting. Then we primed all areas where rust was present using Sherwin-Williams pro cryl rust inhibitive acrylic primer. After primer […]

Commercial Roof Coating in Houston, TX

Commercial roof coating, this is a project we completed for a small paint manufacturer located here in Houston Texas. We first power washed the roofs to remove dirt mold and mildew to prepare the surfaces for painting we then allow them to thoroughly dry. We then […]
If you would like an estimate for residential or commercial exterior painting, please call the painters at John McDonald Painting at 713-927-6682 or complete our online request form.