The Experts to Call for Kitchen Cabinet Painting or Refinishing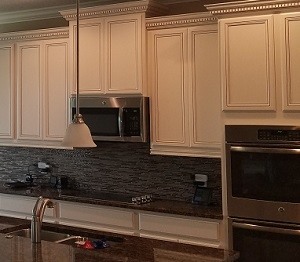 Kitchen cabinets are a vital aspect of keeping this room organized and functional. However, they also can eat as much as 40% of your remodeling budget. If you have kitchen cabinets that are still in good condition, but could use a makeover, you have options. You don't have to install new cabinets, especially when you can call our local experts for professional kitchen cabinet painting and refinishing in Houston.
In order to help determine which would be right for you, as well as get quality results, the only painter that you need to know is John McDonald Painting. We are a family owned and operated business that has been serving local residential and commercial clients since 1981. We take great pride in the work that we do and that shows in the results that we are able to get for our customers.
Our job is to deliver the best in quality workmanship and customer care. However, our goal is to also provide personalized care that assists you with things like helping to save money on your renovation budget. Contact us today in order to get started on your kitchen cabinet refinishing or painting services project.
Superior Kitchen Cabinet Refinishing Results
Want to change the look of your kitchen without investing in all new cabinets? Not only does this save you money, it prevents more still usable materials from ending up in a landfill. Here are some things that you should know about painting and refinishing cabinets:
If the cabinets are still in good condition, it makes sense to keep them but change the look. You can easily update and upgrade the appearance, just by refinishing or painting them.
The type of material the cabinets are made from will determine what would work best. For instance, genuine wood will be handled very differently than laminate.
Some people prefer simply renovating their existing cabinets because it also offers a vintage, or worn in look that is more authentic than distressing new cabinets.
This approach saves time and money, as well as does not interfere with other tasks that are part of the kitchen remodeling process.
The bottom line is that you can benefit greatly from opting to refinish or painting cabinets rather than replace them. Just make sure it is one of our professional painting contractors who handles the job for you so you get the finest results.
Skilled Kitchen Cabinet Painting & Refinishing Techniques For Your Home or Business
As a family owned business, we understand the hardships of keeping a home remodeling project on track with the budget. Let us provide you with the quality work that you require for your kitchen cabinet painting and refinishing project. At John McDonald Painting, your satisfaction is our number one priority.
---
Recent Cabinet Pinting Related Projects
Cabinet Painting in Houston, TX

This is a small kitchen cabinet set that is about 40 years old. They were only stained and polyurethaned and never been painted. They pose a particular problem to paint white due to the tannins that will leech through the paint and also from 40 years […]
If you would like an estimate for kitchen cabinet painting or refinishing, please call the painters at John McDonald Painting at 713-927-6682 or complete our online request form.