Exterior Paint Color Mistakes to Avoid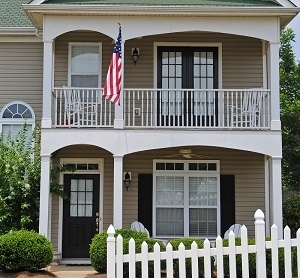 The most important part of getting your exterior painted is finding the right painter to handle the job for you. Aside from that, the other key factor is choosing just the right color. If you are a Houston homeowner thinking about getting your exterior painted, you want to try to avoid making exterior paint color mistakes.
We have all seen that hideous house color that made us say "What were they thinking?" The problem is that, once it is in place, you are forced to live with it, for at least a few years. However, with proper selection making tips, you can avoid having this problem in the first place with your house painting project.
How to Make Good Color Choices When it Comes to Exterior Painting
In order to make the right decision when choosing an exterior paint color for your home in the Houston area, it is not just about what you should do. It is as much about what you should not do. Here are some common exterior painting pitfalls to avoid.
A surefire way to end up not liking the color you choose is to lack any kind of color scheme planning. This includes a main color and a trim color. Some people even opt for a third shade to use for lining window panes and for the front door. Either way, knowing what you want ahead of time is the key to success and to avoid making exterior paint color mistakes.
Another reason for choosing a color scheme is that it helps if you take neighboring homes into consideration as well. Obviously, this should not be your main motive for the colors that you choose, especially since your neighbor may suddenly change the color of their house as well. However, if you want serenity and cohesiveness, plan for the backdrop as well.
Of course your backdrop also includes the landscaping. When your spring blooms explode with life and color, will they clash or compliment your house color? Don't create a beautiful landscape and a beautiful home, but end up having two that clash.
Just as it is best to put color samples on your interior walls before making a choice, the same holds true for the exterior. You need to see what your projected color will look like once it is actually on your home. Liking a color swatch is much different than liking a color covering your entire home.
Pick the Right Team for Exterior Painting in Houston
Now all you need is the John McDonald Painting crew to help you through each step of the process. The work we do is about more than just applying the paint, it is about also helping to ensure that you select a color you will be able to live with, and love, for years to come. For over 30 years now, we have been the local leading painting contractor, and now we look forward to working with you.
Do you need help choosing exterior paint colors in Houston, TX? Call the house painters at John McDonald Painting at 713-927-6682 or complete our online request form.