When Is It Time To Repaint The Exterior Of My Home?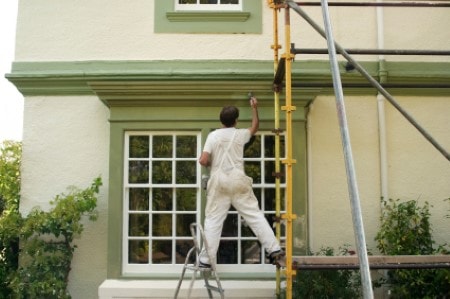 How will you know if it's time to have your Houston home painted? While there are a few signs to look out for like chipping paint and cracks, sometimes there are other factors that may not be as easy to notice. Maintaining the exterior of your home is a huge job, and if you aren't sure whether or not it's time to have it painted, you should give the professional painters at John McDonald Painting a call.
How Often Should You Paint Your Home?
There is no fixed schedule for how often you should paint your home because every house is different. While there are some guidelines to follow, there are several factors such as where you live, climate and weather, and previous paint history that will ultimately be the determining factor. Most experts suggest painting every 5-10 years and this timetable relies heavily on the surface material of your home. For example:
Wood - between 3-7 years or every 4 years if stained
Aluminum - 5 years
Stucco - 5-6 years
Brick – Without paint, it only requires occasional cleaning; If painted, 15-20 years
Former Paint Job
When deciding if you need to repaint based on a previous paint job, a few things to consider are what type of paint was used and whether it was a high-quality grade. Also, how many coats of paint were applied, and what color was used? All of these circumstances can affect how long a paint job will last.
To sum it up, high-quality paint will last longer in lighter colors, especially if applied in two or three coats. 100% acrylic paint is the most durable, which causes it to fade the least.
Elemental Damage
Geographical location will also play a big role in how long your paint job will last. For example, if you live in an area prone to long summers and your house isn't covered by lots of trees, direct sunlight can cause colors to bubble and fade more quickly. Or, if you live in a climate with harsh winters, severe storms, or high humidity, this can also cause your painting job to age faster.
Regular Maintenance
Maintaining the exterior of your home regularly will play a huge role in the longevity of your paint job. Issues like humidity, rot, insect or rodent infestations, and mold can ruin paint and cause it to look chalky and discolored. Routinely cleaning off dirt, mildew, and stains will protect the exterior of your home and limit the break down of paint.
Call the team at John McDonald Painting today for a free consultation regarding if it's time to paint your home in Houston. Our painting contractors are experts in the field and will help you set up a new exterior painting job or a maintenance plan to keep your current paint job intact.
Do you need help choosing exterior paint colors in Houston, TX? Call the house painters at John McDonald Painting at 713-927-6682 or complete our online request form.